The use of these parts to support Conveyors of many different styles, and to provide guide and hardware mountings, is truly astounding. In addition, packaging machinery, automation machinery, assembly machines, food and industrial processing machinery, pharmaceutical manufacturing equipment, and many other types of machinery all use these components to some extent. PARTS range from machinery feet, support bases and heads, belt rollers and flanges, and shaft collars; through guide rail clamps, clips, splice sleeves and brackets; to roller side guides and combiner blades; up to cross rods, cross blocks, sensor mounts, hinges, transfer modules, winding tensioners and nozzles are all readily available for your use.
MARBETT®
Claremont Polymer Shapes
is proud to be the exclusive stocking distributor of
Marbett® CONVEYOR COMPONENTS
in Canada. Click on here to transfer to the full
Marbett®
website to view the entire line and new products.
SYSTEM PLAST® / SOLUS® / VALU GUIDE® / NOLU®
Claremont Polymer Shapes
was the exclusive stocking distributor for
Nolu Plastics Inc.
, until the time of its merger with
Valu Engineering Inc.
With the subsequent purchase of
Valu Engineering
by
Nolu
, operating as
Solus Industrial Innovations, LLC.
, and the sale of
Solus
to
System Plast S.p.A.
last year, we can now supply the ENTIRE Unified Line of
System Plast® / Solus® / Valu Guide® / Nolu®
. Click on here to see the full line of these parts from
Solus Industrial Innovations, LLC.
Of interest, since we represented
NOLU®
for so many years, we may be able to supply you with
NOLU®
parts, discontinued by
SOLUS®
, but still available from the original producer or manufactured at our factory. And, many of the products offered by
SOLUS®
, which are not manufactured by
SOLUS®
, are available to us from the original producer.
CLAREMONT POLYMER SHAPES PARTS
Many years ago, we began manufacturing Articulating Feet due to the very poor quality of product we were receiving from a European producer. We added, shortly thereafter, Square Threaded Tube Ends. Our line of FEET includes 1 1/2", 2", 3", 4" and 5" diameter bases moulded from high strength reinforced black Nylon which is both UV resistant and heat stabilized. The 3", 4" and 5" are available without mounting holes, or with 1 or 2 mounting holes. We had some clients tell us that competitor's FEET made with Threaded Stems having a plastic, moulded-on, ball would sometimes have the ball separate from the metal of the stem when they tried to adjust height of a machine. As a result of that feed-back, we only produce FEET from solid metal; either Stainless Steel Alloy S30300 or Zinc Dichromate Plated Steel. Depending on the base, you can purchase FEET either with a 3/8-16, 1/2-13, 5/8-11, 3/4-10, 1-8 or M16x2 thread. Our Threaded Tube Ends are available for 1 inch square OD x 0.065 inch wall; 1 1/2 inch square OD x 0.065 and 0.120 inch wall and 2 inch square OD x 0.065 and 0.120 inch wall tubes; with 1/2-13, 5/8-11, 3/4-10, 1-8 or M16x2 nickel plated brass threaded inserts available, depending upon the tube size. We produce the moulded portion of our Threaded Tube Ends from the same material we use for the bases of our Articulating Feet. A well-known European manufacturer of Threaded Tube Ends makes a low cost product by press-fitting the metal insert into a pre-moulded part. Numerous customers have shown us the two pieces that separated when the Tube End was put under load on their equipment.
Claremont Polymer Shapes
only moulds directly over the insert, which is designed to withstand pulling out under load. This provides you with the best part for a fair price.
A number of years ago, we began manufacturing, for NOLU®, Stainless Steel Double Guide Rail Clamps for 2 1/2" and 3 3/4" centres and Cross Rods, Adjusting Rods and Swivel Rods in 1/2" and 5/8" diameter. We have expanded on those parts and now manufacture, right here in Canada, Stainless Steel Single Guide Rail Clamps, backing plates and 2- and 4- inch Guide Rail Splice Sleeves, mill finish and anodized Aluminum Guide Rail Compression Clips, moulded Nylon Single Clamps for Guide Rail and 1/2" round rail - with or without a Swivel Rod mounting. Starting in the fourth-quarter of 2004, we will have available production quantities of the two-piece Stainless Steel Self-Tightening Clip with 5/18-18 threaded stems in 5/8", 3/4", 1" and 1 1/4" stem length. Beginning in 2005, we will begin investigating the feasibility of production quantities for several styles of Stainless Steel Angle Brackets. For the best in appearance and sanitary surface finish, all of our parts manufactured from Stainless Steel Alloy S30400 strip are bright polished and our Cross Rods, Adjusting Rods and Swivel Rods are all produced from polished Stainless Steel Rod, also in Alloy S30300. Shortly, we will have a Triple Guide Rail Clamp (2 1/2" rail centers), which will be suitable for use with Valu Guide®, Spiratex® and Artek® Guide Rails.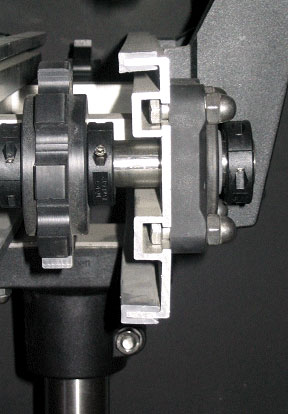 A unique product stocked now by Claremont Polymer Shapes is a Clear Anodized Aluminum CONVEYOR SIDE FRAME (shown in the photo to the right and the drawings below). The SIDE FRAME features two tee-slots, for 3/8" hex head bolts, at spacing that suits the mounting of Marbett® Guide Rail brackets and Side Mount Top Brackets; as well as 204-style 4-BOLT and 204-, 205- or 206-style 2-BOLT Mounted Bearings. The "legs" of the SIDE FRAME will suit the use of standard Spiratex® Conveyor Clip-On Wear Profiles to provide a low friction, high wearing structure. To manufacture a CONVEYOR using our SIDE FRAME, simply space apart the two SIDE FRAMES to suit the belt you have chosen, use 1 1/2 inch square tube as a spacer, as shown, and a threaded tie-rod to hold the assembly together. For wide CONVEYORS, requiring intermediate belt support, mount a tee or flat top Guide Rail belt support to the 1 1/2 inch square tube using an appropriate Single Guide Rail Clamp. This system is suitable for use with Table Top Chain, modular plastic belting, flat flexible belting and round cord belting. Our ready-to-use CONVEYOR SIDE FRAME is cost effective since it eliminates the expense of brake forming and punching associated with traditional conveyor structures. We stock our CONVEYOR SIDE FRAME in 10-foot lengths and, with sufficient quantity; it can be produced in other lengths and/or with colour anodizing.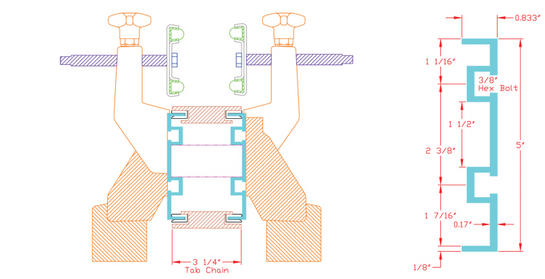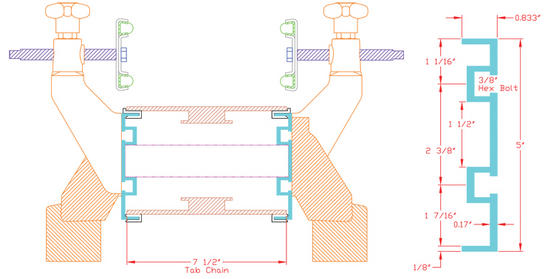 OTHER CONVEYOR COMPONENTS
With our extensive contacts in the business, we can identify and cross reference parts from other less well-known part producer's or distributors. You can either supply us with the part numbers in your records or fax us or e-mail us a drawing or photo of the part you need and we will do the rest.
BOX PRICING
CONVEYOR COMPONENTS
manufactured by
Marbett®
and our own
CONVEYOR COMPONENTS
are all packed in standard box quantities. It saves us money if we can sell full box quantities to you. We pass that savings on to you as an additional discount. While it is less costly to purchase in BOX QUANTITY, we have no problem supplying just one (1) piece if that is all you require.
TABLE TOP CHAIN TRACKS
Claremont Polymer Shapes
can supply your requirements for both CORNER TRACKS and STRAIGHT TRACKS to carry your LF TAB or BEVEL chains. Since the vast majority of chain supplied is TAB style, this section makes reference only to that style. However, we would be pleased to supply any bevel style tracks you require.
Normally, we would manufacture CORNER TRACKS in a 90° segment. But, if you require CORNER TRACKS in other segment angles, with tangents on one or both ends, we can supply those tracks for you as well. Standard centre-line radii are 18 and 24 inch, depending upon the chain type and width. But can be produced in any radius that can be accommodated by the chain. For large radius CORNER TRACKS, two or more segments are usually supplied to reduce cost through better economy of the raw material.
STRAIGHT TRACKS are normally manufactured in 10-foot lengths. But, again, the flexibility exists in what we produce to supply shorter lengths from raw materials we normally stock; or, with sufficient volume and for certain materials, we can supply longer lengths.
We have produced TAB CHAIN TRACKS for 879-, 880-, 881-, 882-, LBP882- and 1701- style chains and can supply tracks for other styles as well. And, we have supplied multiple lane CORNER TRACKS for high volume conveyors as you can see from the photos below. For multiple lane tracks, you will need to specify both the inside track centre-line radius and the spacing between belts; or, the centre-line radius of each lane.
Most often, CORNER TRACKS and STRAIGHT TRACKS are manufactured from Black UHMW Polyyethylene; offering the best combination of low cost, wear resistance, low coefficient of friction and ease of fabrication. For a small premium, a considerable reduction in coefficient of friction can be achieved from our Grey Lubricated UHMW Polyethylene, and, un-like other Lubricated UHMW products in the market, without any reduction in load bearing strength, compared with the black. The presence of a lubricant is of most importance in CORNER TRACKS since it reduces the load on the belt required to drive the belt through the corner with its related interior thrust. In fact, the reduction in friction means you can increase the footage of belt while maintaining the same belt-pull, as compared with Black UHMW-PE. For higher load applications, NYLATRON GSM® has been typically used in the past, even though tracks produced from this product are far more expensive. However, Oil-Filled Cast Nylon, with its much lower coefficient of friction, offers you a better track for those higher load applications. The presence of the lubricant does reduce the load bearing capability from about 3 times that of Black UHMW Polyethylene to about 2 1/2 times and you should take that into account when designing your CORNER TRACK.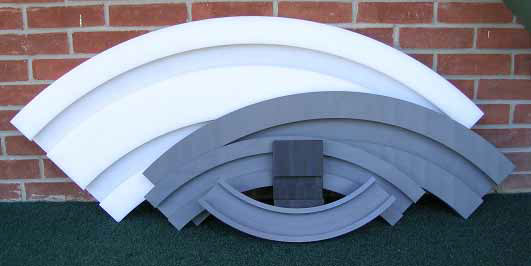 You must be very careful when matching-up new CORNER TRACKS with existing conveyors. The SOLUS® VALUTRACTM product is now available in a NARROW width version, for reduced cost. Check the width carefully and let us know exactly what you require and we will provide exactly what you need. Also, check the thickness required for your track if you are mating with an existing conveyor or replacing an existing track. SOLUS® tracks for 882TAB style chains are 1 3/16 inch thick compared with the thickness specified by major table top chain producers of 1 1/4 inch. The 1/16 inch is lost from the trough of the track where it is needed to maintain stability of the track.