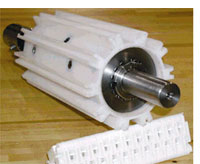 Habasit® has patented the concept of using an oval hole for retaining the connecting rods. Coupled with another of their design features, tapered hinges, HabasitLINK® Belts offer far greater cleanability. Add to that the patented ModulCLEAN® device, and Habasit® offers the ultimate in belt sanitation capabilities!
Click here to see a video of ModulCLEAN® in action.
HabaCHAIN® is fully compatible with industry standards, allowing for problem-free retrofits. Table Top Chain is available in Straight Running and Side-Flexing versions, in both Slat-Top and Low Back Pressure styles. Of particular note is the C7100-series of Multi-Flex Chain, which is a direct replacement for applications using modular aluminum systems. This specialty chain is highly flexible and capable of making tight-radius turns in both the horizontal and vertical planes. Think "Habasit®" when looking for the low cost alternative.

The engineering team has also incorporated many patented features within the HabaCHAIN® line. One such advancement is their Split Sprockets and Idlers, which feature an interchangeable keyed or un-keyed split core. This combination design of split parts provides for easy replacement of worn Sprockets and Idlers, with the interchangeable split core concept dramatically reducing the amount of maintenance inventory kept on-hand.