A crystalline engineering thermoplastic, ACETAL is produced in Homopolymer—DELRIN® or Copolymer—CELCON®, ULTRAFORM®, etc. type. The Homopolymer is harder, tougher and mechanically stronger. Whereas the Copolymer was more resistance to higher temperatures, hot water and a broader range of pH. The recent development by E.I. Dupont of Type E Homopolymer grade has improved its resistance to hot water and alkali environments. With this advent, there is little difference in chemical resistance between Homopolymer and Copolymer. Due to lower resin cost and ease of processing; Copolymer rods, sheets, strips, tubes, etc. are less expensive. In general, ACETALS possess very good mechanical strength, dimensional stability, creep resistance, fatigue resistance and chemical resistance. One of the easiest of polymers to machine, ACETALS exhibit low moisture absorption, natural lubricity, good wear resistance (but poor grit abrasion resistance) and good electrical insulation properties. ACETALS are unusual among thermoplastics in organic solvent resistance. There are no common solvents at room temperature. Strong acids and oxidizing agents adversely affect the mechanical properties and appearance of both polymers. As with most polymers, ACETALS are degraded by exposure to UV radiation or sunlight. Pigmenting with black almost completely eliminates this problem.
With such a quality material, there are a wide variety of grades available. In addition to the standard uncompounded, un-pigmented grade there are numerous internally lubricated grades, glass filled grades and coloured materials.
ACETALS machine very well indeed, with cuttings breaking cleanly away from the tooling keeping the work piece and cutter free of turnings. Very sharp tools used at high surface speeds and slow feeds produce the best finishes and highest tolerance parts. For this reason high speed steels are recommended with all but the glass filled grades. High tool wear resulting from glass-filled grades may necessitate using carbide tooling. With their very good solvent resistance and low moisture absorption, ACETALS permit the use of a wide range of cutting fluids. Although, in many instances, a compressed gas jet directed onto the tool will provide good results in maintaining a cool cutting edge.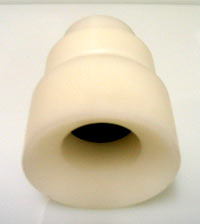 Copolymer CENTERING BELL
used in a Soft Drink Filling Machine

With their high solvent resistance, ACETALS cannot be properly joined by cements without suitably roughening the surface. This can be accomplished using one of three methods: by sanding with 280A grit emery cloth, by a chemical etching process called SANITIZING or through a gaseous etching process. The chemical or gaseous etch produce bonds of 50% higher shear strength than the mechanical sanding method. Both contact and polar cements are useable with the polar type producing substantially higher shear strength. ACETALS can be ultrasonically and, with proper technique, hot gas welded.
Unfilled Homopolymer and Copolymer are approved by the FDA for direct food contact, at room temperature. All other grades are not approved.