Actually one of the FLUOROPOLYMERS; PVDF has unique characteristics which set it apart and makes it worthwhile considering separately. Specifically, PVDF has much higher physical properties, which are maintained throughout its useful temperature and greatly reduced cold flow. As well, PVDF possesses considerably improved abrasion resistance, similar to that of Nylon. PVDF has very good chemical resistance but not outstanding as PTFE. Only strong bases and highly polar solvents such as ketones and esters attack or soften and swell PVDF; strong acids and oxidizing agents, aliphatic, aromatic and chlorinated solvents, salts and halogens have no effect on PVDF. Thus, PVDF finds wide applications where high physical properties, at high temperature, in severe chemical environments, are important. Products such as chemical processing piping, fittings, valves and pumps. Machinery parts such as gears, bearings, rollers, seals, etc. used in high temperature chemical processing equipment. Electrical insulation properties are very good and, like the physical properties, are maintained over a broad temperature range. PVDF is unaffected by UV radiation and, consequently, can be used outdoors without need to specially pigment or otherwise protect the material. With its high physical strength, at high temperatures, UV resistance and light transmission, PVDF finds applications in solar power generation for flat plate collectors and solar cells. Due to its inertness and high temperature qualities, PVDF finds broad applications in the food and pharmaceutical industries. U.S. FDA has approved PVDF for repeated contact with food, U.S. Department of Agriculture has approved PVDF for contact with poultry and meat, and PVDF meets "3-A Sanitary Standard" for product contact surfaces in dairies.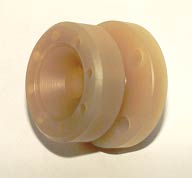 KYNAR® 460 replaces
316 STAINLESS Valve Flange
PVDF
machines very well. With high temperature resistance,
PVDF
can be machined dry and very heavy cuts can be taken. Best surface quality results from high-speed cutting with very sharp, high-speed type tooling.
PVDF
has a coefficient of linear thermal expansion greater than most engineering polymers and care should be taken not to generate excessive heat when producing close tolerance parts. In such cases lubricant may be required to remove heat and with the broad chemical resistance of
PVDF
any type of commercially available lubrication may be used.
PVDF
, like many of the FLUOROPOLYMERS, is not bondable without etching. After proper etching polar adhesives produce good bonds. Also,
PVDF
can be either hot gas welded using compressed air or nitrogen as the medium, or pipe and fittings can be fusion welded (a technique in which the faces of the pipe and/or fitting, to be joined, are heated then forced and held together, until cooled, producing a fused joint).
The above chart serves to show that the same product can have different properties from different manufacturers because of different processes used to manufacture the product, like PVDF in this case. Atochem-Elf Aquitain makes their high molecular weight KYNAR® 460 PVDF, commonly used to produce rod and sheet, by an emulsion process. Solvay Polymers, Inc. makes their high molecular weight SOLEF® PVDF by a suspension process. Chemically, the materials perform equally because they have the same chemical structure. However, the different processes result in different molecular weight distribution. SOLEF® has a higher melting point and higher heat deflection temperature allowing SOLEF® to withstand mechanical forces better at high temperature. KYNAR® with lower tensile properties, higher elongation and higher impact strength will be tougher and more able to withstand sudden shock. In addition SOLEF® is a white polymer while KYNAR® is an off-white polymer with a brownish tinge. Claremont Polymer Shapes has extensive contact with the major resin producers, converters, trade associations and specification writers that allows us to present detailed, critical information, like this, to you. Call us when you need the quality products backed by quality service and know-how.