P E T
(POLY(ETHYLENE TEREPHTHALATE))
ERTALYTE® ARNITE® MYLAR®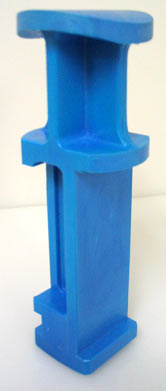 Machined PET Dough Piston
to replace a moulded part
that is no longer available
SPECIFICATIONS:
| | |
| --- | --- |
| | FDA TITLE 21 CFR 177.1630 |
| | ASTM D4507 GROUP 2 |
NATURAL COLOUR:
WHITE
As a second generation of POLYESTERS, these materials, unlike the Thermoset POLYESTERS covered in the FRP section, are semi-crystalline THERMOPLASTICS and much more easily processed by moulding and extrusion. Long known as high strength man-made fibres such as TERYLENE®, DACRON® and FORTREL®; PET has recently, through advances in processing and machinery, become an important material. PET containers for beverages such as soft drinks, bottled water, juice, etc. show what a tough and strong material this food-approved resin is. As a crystalline, engineering polymer, PET possesses considerably higher tensile, load bearing and temperature resistance properties along with a much lower coefficient of thermal expansion than the other major engineering plastics like Acetals and Nylons. As well, PET has better machinability than any other THERMOPLASTIC. PET has low notch impact strength and should not be used for parts with under-cuts, cutouts, etc., subject to impact, unless generous radii are provided for in order to disperse the stress of impact.
P B T
(POLY(BUTYLENE TEREPHTHALATE))
VALOX® GAFITE®
SPECIFICATIONS
ASTM D4507 GROUP 1
FDA TITLE 21 CFR 177.1660

NATURAL COLOUR:
OFF-WHITE (CLEAR IN THIN SECTIONS)
PBT is somewhat lower in physical strength and temperature resistant than PET; but, under certain loading conditions, at higher temperatures, PBT has higher stiffness than PET. As well PBT has frictional properties very similar to Acetal and slightly lower than PET; but does not have the high PV limits of PET. And PBT absorbs slightly less moisture but is slightly less chemically resistant than PET. PBT is a tougher material than PET and possesses reduced notch sensitivity. When the appearance of centerline porosity in Acetal Homopolymer is objectionable both PBT and PET, not possessing this appearance, are available. The machinability of PBT while quite good is slightly lower than PET and Acetal.
POLYESTER ELASTOMER
ARNITEL® HYTREL®
SPECIFICATIONS
ASTM D4550

NATURAL COLOUR:
OFF-WHITE
This highly specialized material is a THERMOPLASTIC having appropriate methods of processing, but with rubbery characteristics. Hence, the ultimate cost of elastomeric parts is lower. Like true elastomers, these materials possess resilience, low creep, resistance to impact and flex-fatigue resistance. Also, POLYESTER ELASTOMERS have very good resistance to oils, fuels, solvents and chemicals; but have only fair resistance to dilute acids and bases; and are attacked by concentrated acids and bases. The low temperature brittleness point is far lower than conventional rubbers and retention of properties after radiation exposure is better than most rubbers. POLYESTER ELASTOMERS have much better hydrolytic stability than Urethanes; in similar hardness products, load-bearing properties are better than Urethanes and tensile properties at elevated temperatures are also better.
GENERAL PROPERTIES
ASTM
test
P E T
P B T
P B T
(30%
Glass
Filled)
Hytrel®
5556
SPECIFIC GRAVITY
D792
1.39
1.31
1.53
116
TENSILE STRENGTH
psi
D638
12000
7500
17300
2800
TENSILE MODULUS
105 psi
D638
4.7
3.1
13.0
0.335
ELONGATION
%
D638
45
200
5
550
FLEXURAL STRENGTH
psi
D790
17500
12000
27500
3500
FLEXURAL MODULUS
105 psi
D790
4.7
3.4
11.0
0.55
COMPRESSIVE STRENGTH
10% psi
D695
14500
13000
18000
COMPRESSIVE MODULUS
105 psi
D695
4.1
3.8
7.0
HARDNESS
rockwell M
D785
M90
M79
rockwell R
R118
shore A
90A
IMPACT STRENGTH (1/2" x 1/2")
ft-lb/inch of notch
D256
0.8
1.0
1.0
No Break
THERMAL EXPANSION
10-5/°F
D696
3.9
5.0
1.4
10.0
HEAT RESISTANCE
(continuous in air)
°F
215
210
250
210
DEFLECTION TEMPERATURE
D648
@ 264 psi
°F
175
130
405
115
@ 66 psi
°F
240
310
420
176
DIELECTRIC STRENGTH
v/mil
D149
600
400
475
400
DIELECTRIC CONSTANT
D150
3.0 to 3.3
3.0 to 3.3
3.6 to 3.9
DISSIPATION FACTOR
10-3
D150
7 to 20
15 to 25
2 to 20
WATER ABSORPTION
24hrs %
D570
0.10
0.08
0.06
0.19
FLAMMABILITY
in/min
D635
0.37
0.36
0.28
BEARING PROPERTIES
WEAR FACTOR, 'K'
10-10-in3-min
ft-lb-hr
D3702
195
210
41977
COEFFICIENT of FRICTION (DRY)
against self - static
40 psi
0.19
0.17
against self - dynamic
40 psi/50fpm
0.25
0.24
against steel - static
40 psi
0.21
0.19
0.27
against steel - dynamic
40 psi/50fpm
0.26
0.25
0.59
LIMITING PV
lb-ft/in2-min
@10fpm
5800
2600
N/A
N/A
@40fpm
4600
2400
N/A
N/A
@100fpm
4100
2200
N/A
N/A
@400fpm
3700
2800
N/A
N/A
@1000fpm
N/A
N/A
N/A
N/A
PLEASE NOTE:
Values shown in the above table are averages and there will be variances from lot to lot. After selecting a material based upon these values, you must conduct tests specific to your application to be assured the material suits your needs.
The maximum sliding speed for THERMOPLASTICS like PET, Nylons, Acetals, etc., running dry, mating against another surface is generally taken to be 400 feet per minute. Above that point, since polymers do not conduct heat well, the heat of friction building up in the part is not dissipated. Ultimately, the part fails by melting. If the part contacts metal, the boundary between the metal and the polymer, where heat transfer could occur, will be intact. The part will have melted internally. If mating with another polymer part, the one with the lower melting point will have failed first with the two probably fused together. Constant lubrication will reduce this tendency and increase the maximum possible surface speed for your part. This has to be determined by testing. You can learn more about internal lubricants and reinforcing materials on various polymers by contacting Claremont Polymer Shapes.